REPATRIATION OF HUMAN REMAINS
For families and friends who face the sad situation of their kith-kin being deceased in India or foreign land, our repatriation ISAPL provides the much-needed reassurance and service required. At ISAPL we undertake specialist medical repatriation and Funeral services on behalf of the individuals, hospitals and health institutions, insurance companies, travel agents and other organizations. We provide services in Australia, UK, USA, Canada, Japan, Malaysia, India, Nepal, Thailand, Sri Lanka, Mexico, Singapore, Ireland, Norway, Germany, Austria, Italy, Belgium, Brazil etc.
Medical Evacuation needs a high degree of patient care and understanding. Repatriation Services for deceased requires culturally and legally aligned handling treatment in India or other country. ISAPL have been transferring patients on behalf of some the world's major insurance companies for a number of years. We pride ourselves in our patient care not only medically, which is our highest priority, but also our empathetic approach to casualty comfort. Cross border transfers involving the South East Asia require even greater levels of planning and patient care. We have successfully repatriated patients or Human Remains covering 18 countries. We are considered economical both by the family and insurance companies.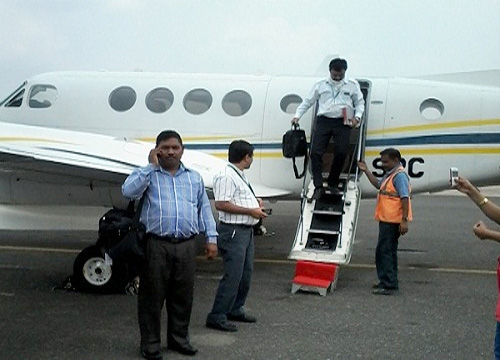 Bringing human remains in charter flight from Ladhak for transfer to Auckland
We offer a completely flexible service, taking care of as much or as little as you want; from document processing and flight booking, to the preparation of the deceased for international repatriation and liaison with the Funeral Directors at the other end of the journey. We leverage experience from the regional Funeral Directors to give appropriate family service. We have business setup with over dozen international Funeral Directors with decades of experience. In rare conditions, we arrange for the Funeral Director's to cremate and return of cremated remains to the families. We can also provide Flight booking services and booking of family tickets if required in any situation. Many Embassies, Foreign missions, insurance companies, expats, and agencies are using our services.
Our Medical Evacuation operations section is on permanent standby at the Emergency Alarm Centre +91-11-246594412 . Our English speaking team, lead by Poonam, Dolly & Sam will assist with repatriations to and from India. In addition we have access to translators to other few languages. For more than 25 years, Poonam has been helping families, friends and communities repatriate their loved ones to and from the India, whilst being in constant communication of a difficult and confusing time of the friends or relative of the deceased while traveling, living or working abroad.
You will get a hassle free service with assured timeline and competitive price for such emotional sensitive situations. The comprehensive ISAPL Repatriation service is focused in three areas: cost containment, quality of service and Bereavement care.
Custody of remains
Cremation and repatriation of ashes
Post-Mortem if required
Mortuary holding facility (24 hrs. at the facility)
Embalming
Coffin box with necessary lining & packing cases, Sealing, Labor
Legal documentation including registration of death
local transportation from place of passing to the registered mortuary facility
Funeral Director's service
Freezing, if required
Air Freight
International Custom clearance and liaising with the appropriate authorities abroad to repatriate the deceased to their country.